Made by professionals
Reviews and consultations
CV writing for all levels
Cover letter writing
PDF & Doc version included
We offer professional CV writing service in Sri Lanka for those of you looking for a more in-depth service, to really help you in your job search. By taking advantage of what we have to offer, you're guaranteed the best CV writing service in Sri Lanka, to ensure that you are fully prepared for any job interviews that might come your way. It can be awkward if you aren't able to elaborate on parts of your professional CV when you are questioned. Fortunately, our team is on hand to provide you with a professional CV writing service that will help you to be ready for anything and to create the best possible CV format.
| CV Format | CV Format Re-design | New CV Writing |
| --- | --- | --- |
| Student CV | රු 5,000 | රු 8,000 |
| Graduate CV | රු 6,500 | රු 12,000 |
| Professional CV | රු 8,500 | රු 18,000 |
| Managerial Level CV | රු 10,000 | රු 30,000 |
| Executive CV | රු 12,000 | රු 40,000 |
We always care on your career life and success. Drop your details here and we will contact you back on your convenient time.
How It Works - Our 4 Step Guide...
On average, employers spend less than 6 seconds looking at your cv to shortlist. We know how to make your CV stand out among others. Here is our process: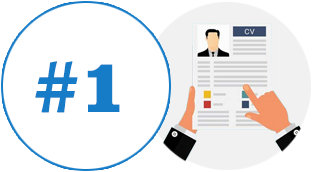 Place your order
Purchase a suitable CV format for your profession or contact us to choose the most appropriate CV format.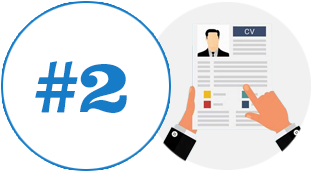 Send us your Details
We will contact you to get the necessary information to create your CV based on your skills, experience & position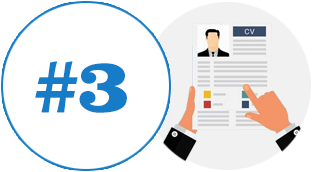 Review the Draft
We will send you the 1st draft to review the contents and once we got the reply we immediately amend it on the CV.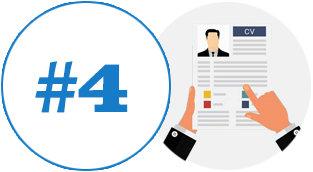 Get your Final CV
You can get your compelling and professional handmade new CV format . Further you can host your CV online.
CREATE AN EFFECTIVE CV
We don't sell templates and we don't use automated ways to write your CV. You can hire a well trained professional CV writing expert in Sri Lanka who has the ability to view your CV format as an expert as well as with the mind of an employer.
Our CV writing experts are made up of dedicated HR professionals, who have worked in this field for many years for recruiting and shortlisting candidates. Since many of them have previously interviewed job candidates, they themselves will able to tell you exactly what employers are looking for and helping you to come up with the perfect CV format for any occasion. Whatever you need, Our team will carefully work with whatever you need on producing a CV writing that perfectly shows off ensuring that you are the ideal candidate and help you to prepare yourself for all interviews that you will certainly secure.
Our Sample CV Writing Services
Invest on the most important document in your career
Brand new CV writing service
If you're new to CV writing, or are re-entering the job market after a few years away, then it can be daunting to do a brand new CV writing from scratch. Our CV writing consultants will be able to guide you through the process, and come up with a new CV writing that will impress any employer.
CV consultation for re-design and editing current CV
If you already have a CV written, but would like it edited or overhauled to stand out more, then our CV consultants will be happy to help you, too. With just a glance at your CV, They will be able to tell you where you have been going wrong with just a glance at your CV and guide you in the right direction.
My appreciation of your service is towards your timing. I could able to get my CV on time from your experts which made me to apply for a job at once. Now, I am in a recognized position in the society because of yours on time service towards the customers
Dear Bala, Good work & Thank you very much for the support.
I am happy with the CV. Thanks for the work done.
Thanks for all supports. I really appreciated your guidance and ideas.
Finally. Thank you so much. Keep up your good. Will suggest for others too.
Dear Bala & Team, Thank you! I'm super impressed that my resume process. Keep on going with the good work,
Very professiona land they have a good range of great CV design templates. Takes your inputs along the way and always follows up with you if you are a busy executive. They did a fantastic job on my CV. Highly recommend their services!
Thank you very much Bala & Priya for your speedy service. Thank you for being able to deliver the promise. I will recommend your site to all my friends and lets keep in touch.
It was really amazed to see such a professional work which indeed go with the customer requirements and most importantly with continuous updates and within such a short period of time. Bravo Zulu for your dedicated work...!
I got my Curriculum Vitae right on time . Your presentation is of exceptional quality and very much presentable. Besides, I am also very much impressed with the quality of your service . This suggestion is just as a feedback to enable yourself to reach more users in need . You can perhaps form a Whatsapp group easily reach your customers . That's all I had to say and thanks again for your wonderful service .
What I really like about your service is that you'll always kept updating me. Everytime when you'll sent a mail you'll called and informed me to check. In addition to that , you'll have done a great job. Keep up the good work..
Good work in designing. Professional work.
Let's Talk With Us
Talk to our experts to discover premium services